section-84707ba
BB Performance
Project Task: Bob wanted a brand new website set up to showcase his personal training business. With a couple of zoom meetings, there was enough to go on to make a great looking site to compliment the business.
Features included:
Questionnaire form with signature strip
Blog news section
Integrated Instagram feed
Integrated Mailchimp
An FAQ's section
Mobile friendly
Full training so client can self run website
section-78adcc9
What the client said...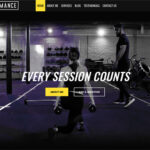 I have got to say that working with Jay to build my website has been one of the most enjoyable professional experiences I've ever had. I felt my brand and message was quickly understood which led to a seamless and fast website build. Every detail is how I wanted it to be, with Jay being quick to change anything we felt wasn't quite right. I'd recommend Jay to everyone looking to build a website, to take their business to the next level or just have a chat about some of the cool stuff he's doing himself!
Bob Beswick - Owner
Business