section-84707ba
King Voodoo
Project Task: Another musician (band) wanting a new website and ecommerce shop, so another simple set up complete with customer training so they can update and run the website themselves.
Features included:
Ecommerce shop
Integration to Facebook
Integration to Mailchimp
Mobile optimised
Full training so client can self run website
section-78adcc9
What the client said...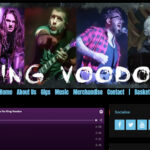 Our band King Voodoo requested a website, I reached out to Red Six Studio design. I found them very easy to work with amazing knowledge of how to make a successful working webpage.
We supplied images, links, bios, then they did the rest. The process was very quick with regular communication between us to ensure we was satisfied with the website.
The price was perfect and broken down to show what was included. Overall the service was faultless with amazing aftercare / customer service highly recommended with 5 star customer service.
Ian Johnson - Musician
eCommerce
Music