section-84707ba
Kingdom Property Sourcing
Project Task: A complete revamp website for this customer to bring their website up to date with customised forms, whatsapp integration and more for this information website.
Features included:
Integration to Facebook live chat
Integration to Mailchimp
Mobile optimised
Integration to Whatsapp live chat
Custom questionaire forms
Search Engine Optimisation
section-78adcc9
What the client said...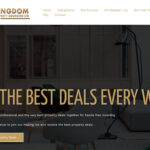 I needed an upgrade to my business page. I was pleasantly surprised of what light work they made of my webpage. The work ethic from these guys and turn around time was very impressive. What impressed me the most was their creative ideas. What a great team!
Jon Simmons
Business