section-84707ba
Music Super Market
Project Task: This was a fun project. The client wanted not just an ecommerce website but one where their own customers could have their own ecommerce site within the website. Akin to Amazon or eBay so they could be sellers through the website. Very interesting feature rich website.
Features included:
Ecommerce shop
Membership subscriptions
Stripe integration for sellers
Integration to Facebook
Integration to Mailchimp
Mobile optimised
Music download options
section-78adcc9
What the client said...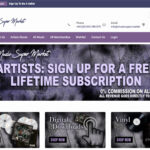 Red Six were absolutely awesome with helping us build a fully integrated ecommerce website. We already had knowledge of what to do and what we wanted but the team went above and beyond to help us make the site work better than we could have imagined.
Martin Kannenberg - Director
Business
eCommerce
Music